Share This
Biography
André Pijet settled in Quebec in 1988. In his native Poland, his training in fine arts and photography, along with his innate talent for drawing, led very early to a career as an illustrator, caricaturist and cartoonist. His satirical and humorous works have been published in Poland, Greece, Belgium, France, Great Britain, Italy, Turkey, the United States and Canada. In Quebec, he made a name for himself with a series of cartoons related to the 1993-94 hockey playoffs, which he produced for a major Montreal daily newspaper. He received his (BFA) Bachelor degree from the Concordia University (Major in Painting & Drawing and Minor in Art History), as well as his (MA) Master of Arts degree in Art Education. As a freelance artist, he works regularly with major advertising agencies and publishing companies. He is well known for his book illustrations and for his work as a graphic artist and art director. In parallel, during all the time he continues to search for his proper way to express his own perception of Contemporary world through the painting and drawing constantly exploring it theoretically and practically. His works have been featured in a number of major exhibitions and have earned him a number of prizes abroad.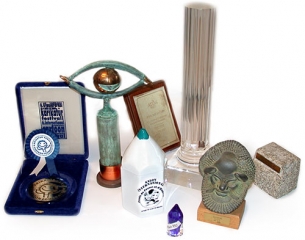 2023 – Special Distinction in 2023 Satirical Drawing Competition "Jubilee" in Zielona Gora, Poland. The award was founded by the Polish National Bank.


2019 – Special Award of the "2019 Philosopher Lao Zi & Zen Master Huineng Caricatures" in the"Eyes of Artists International Competition & Exhibition".

2017 – 1st Prize in 8th National Competition of Satyrical Artwork "Manufaktura Satyry" Zyrardow, Poland.
2014
Prize of SPAK, Association of The Polish Artists of Caricature, 5th National Competition of Satyrical Artwork "Manufaktura Satyry" Zyrardow, Poland

2013 –

Honorable Mention National Competition of Satyrical Artwork "Olsztyn 660" Olsztyn, Poland

The City of Zyrardow Mayor's Prize, 4th National Competition of Satyrical Artwork "Manufaktura Satyry" Zyrardow, Poland

2010 –
Prize of Distinction in competition « Museum,» Gallery Krzywe Zwierciadlo
Zielona Gora, Poland
2009 –
Honorable Mention
National Exposition of The Association of Polish Artists of Satirical Art SPAK, Theme: "Theatre."
Warsaw, Poland
2009 –
Prix The Small Lion,
Polish Satirical Contest "Discover the Universe,"
Olsztyn, Poland
2008 –
Prix Robert LaPalme, Exhbition 1001 Visages,
Montreal, Canada
2003 –
The Prize of The Conseil General du Loiret —
International Festival des Dessins Presse, Humour et Caricature
Orleans, France
2001 –
Winner of the porcelain pencil for best foreign book « Piegé par l'amour »
Saint-Just-Le-Martel, France
2000 –
Honourable Mention – International Biennial of Caricature
Vercelli, Italy
1998 –
Winner of the porcelain pencil for best foreign cartoonist
Saint-Just-Le-Martel, France
1998 –
3th prize – International Biennial of Caricature
Vercelli, Italy
1996 –
1st prize for book of caricatures « Toute vérité est bonne à rire » – Casino-Beringen
Belgium
1996 –
Aydin Dogan Vakfi – Award of Success
Istanbul, Turkey
1993 –
4th prize
Ancona, Italy
1991 –
4th prize
Ancona, Italy
1989 –
4th prize
Ancona, Italy
1987 –
Critic's Choise Award – Casino-Beringen
Belgium
1986 –
Honorable Mention
Warsaw, Poland
1986 –
3rd prize
Zielona Gora, Poland
1985 –
3rd prize – International Biennial of Graphic Art
Sofia, Bulgaria
1985 –
3rd prize
Suwalki, Poland
1984 –
2nd prize
Suwalki, Poland