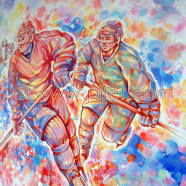 May

29
Tags
Related Posts
Share This
The Google Experience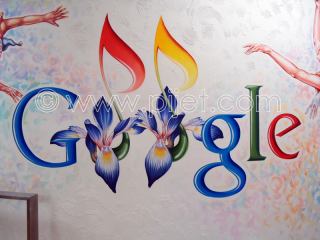 "The Google Experience." 
At the mid of June 2012, I received an invitation to participate in an open competition for a mural project for the new Google office, in Montreal. The proposal sparked my curiosity and I responded positively. Soon after I got invited to have an introductory tour of the Google establishment and an introduction to the project. I met with the person in charge who introduced me to Google's interior design philosophy of the working space. The particularity of the interior arrangement of Montreal's office fascinated me. It was a stunning experience. I can only say that Google's working environment should be an example to follow by all companies, which look for an answer how to inspire the productive performance of their employees.
The introductory tour was particularly inspiring, and before it had ended, I already got an idea of how and what to do for the mural. On the way back to the atelier, I started to think how in the best way to combine all the acquired information into one visual conclusive proposal. I decided to focus mainly on the cultural aspects of Montreal. At first, I modified the Google's logo by transforming the two letters "oo" into music notes intertwined with irises, which symbolically refer to the city's and province's French flavor. In my proposal for the mural, I chose to focus mainly on the hockey and performance arts as the most significant aspects of socio-cultural city dynamics.  I prepared a watercolor sketch for the mural artwork, and I submitted my proposal to the Google committee.
In a three-week time, I received an e-mail with the message that my proposal was chosen. I got invited to the meeting with the administrative board to discuss the details of the project. The final size of the artwork is 2.20 meters in height and over 11 meters in length, including the space between the windows.  Right at the beginning it appeared to me quite suitable for the space to do a figurative artwork in an impressionistic style expressed freely in color and the volume of the surface form. The various colors, which interact between themselves, symbolize the process of a transfer of a variety of information through the channels where the particles of light spread any possible content among the users connected to the network of the Google "digital world."  Furthermore, the colorful composition reflects also the interior character of the Google office-working environment. In order to emphasize the particularity of moving bits in the computing network, I created a three dimensional pattern in a form of impasto rings spread on the entire painting surface. 
To conclude, I have to admit that it was enormous pleasure to work in so kind and friendly environment and this experience allowed me for almost a month to be a part of the Google family on the every-day basis.